Monday, Sept. 10, 1 pm and Thursday, Sept. 13, 7 pm – Cedarburg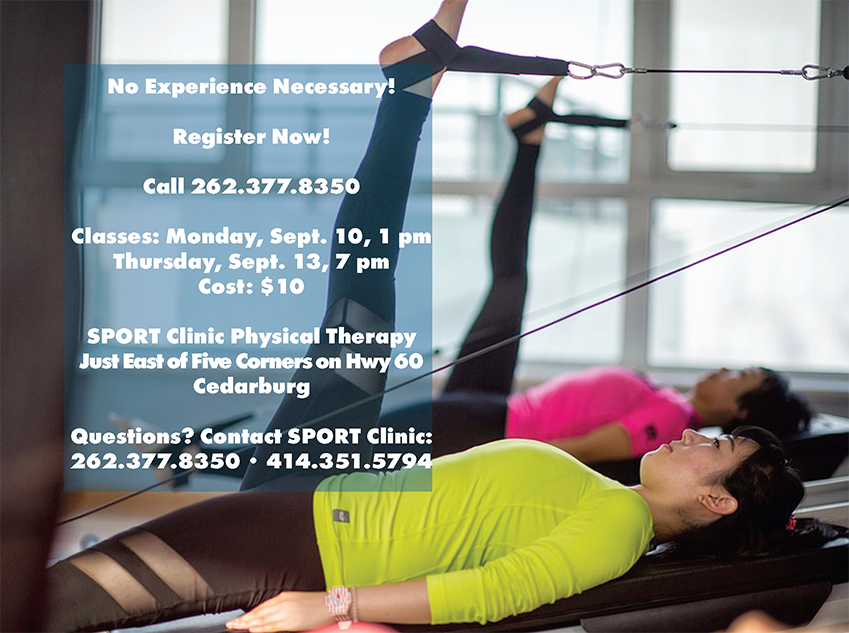 DOUBLE YOUR PHYSICAL THERAPY BENEFITS
WITH A SIDE ORDER OF PILATES!
Join Paula Trusky, MFA, PTA, CYT, CPT at SPORT Clinic PT in Cedarburg on September 10th or 13th to learn how Pilates can help you meet and exceed your physical therapy goals.
Pilates helps create a balanced body by enhancing strength and flexibility through healthy and efficient movement patterns. It promotes even musculature throughout the body by strengthening the core and emphasizing spinal and pelvic alignment. Pilates equipment and props are used to provide a safe, low impact support to assist you as you rehabilitate from injury, surgery, or day-to-day wear and tear.
All About Pilates Equipment
How Pilates can Benefit Physical Therapy
Pilates for Long-Term Fitness and Cross Training
Demonstrations